Culinary Book and Cookbook Clubs
We are excited to continue our current members-only Culinary Book Club and our bigger and better Interactive Cookbook Club! Every two months, you will have the opportunity to swap cookbooks with your fellow members, try new recipes, and share feedback on each new cookbook. We will then get together to share a dinner full of new dishes and enjoy a discussion of the various cookbooks that inspired each member.

The Culinary Book Club and Interactive Cookbook Club will continue to meet in alternate months — you do not need to participate in both, or even commit to all months. Not to worry, there will be ample time allowed for you to cook from each new cookbook you receive.

We have a busy season ahead of us — so let's get busy reading, cooking, and eating!



---
Culinary Book Club
Tuesday, November 19, 2013 -- Start Reading Now!


Fresh Off the Boat discussion -- 7:00PM


Event is limited to current CGNE members, RSVP required, no fee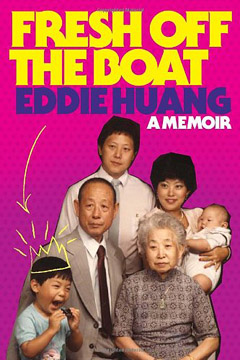 For our second Culinary Book Club meeting of this season -- on November 19th — we will be discussing Eddie Huang's Fresh Off the Boat.

Fresh Off the Boat is an immigrant's story for the 21st century — a story of food, family, and the forging of a new notion of what it means to be American.

Eddie Huang may have grown up in your standard suburban subdivision, but he was raised by a wild family of FOB ("fresh off the boat") hustlers and hysterics from Taiwan. And while his father launched his own series of successful seafood and steak restaurants, Eddie was busy burning his way through American culture, defying every "model minority" stereotype along the way — from obsessing over football to idolizing Tupac.

But his anchor through all of his rebellion was food — from making Southern ribs with the Haitian cooks in his dad's restaurant to preparing traditional meals in his mother's kitchen to haunting the midnight markets of Taipei when he was shipped off to the homeland. After misadventures as an unlikely lawyer, street fashion renegade, and stand-up comic, Eddie finally threw everything he loved — past and present, family and food — into his own restaurant, the hot East Village hangout, Baohaus.



---
Wondering what else we'll be reading this season?

Take a look:
Thursday, January 17, 2014: Relish: My Life in the Kitchen by Lucy Knisely



Wednesday, March 19, 2014: Cooked: A Natural History of Transformation by Michael Pollan



Tuesday, May 21, 2014: Blue Plate Special: An Autobiography of My Appetites by Kate Christensen

Stay tuned for more information!
---
Interactive Cookbook Club
Stay Tuned for Our Next Cookbook Club Event!!